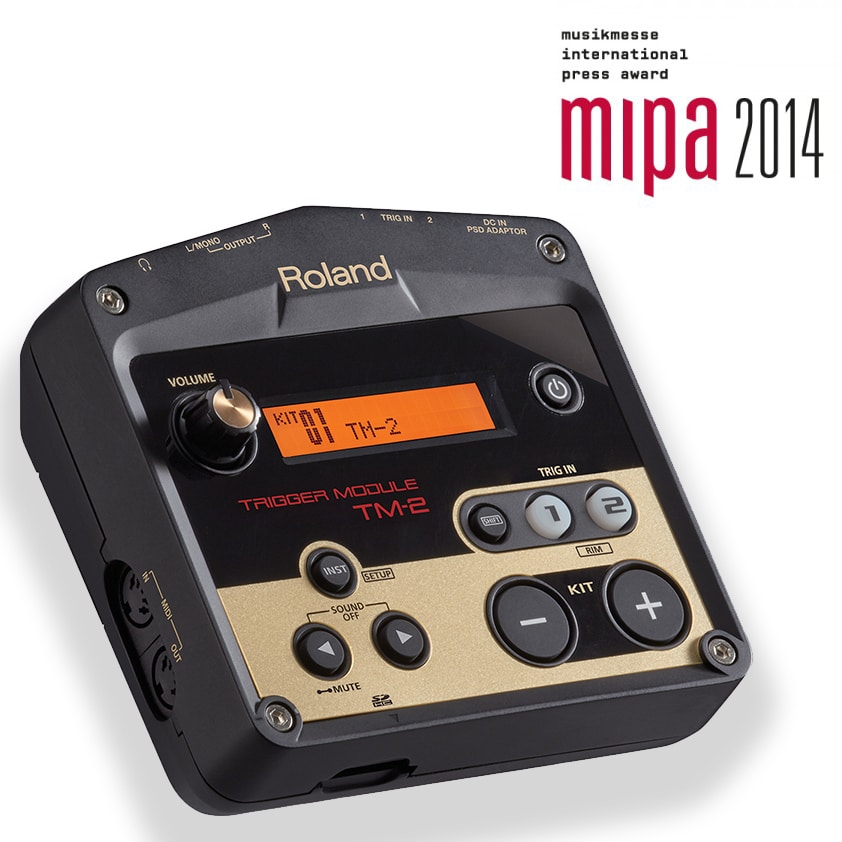 TM-2 Trigger Module is a WINNER!
What do Modern Musician, Future Music, Guitar Player, Harmony Central, Music Trades, Electronic Musician and DrumScene have in common? They all vote in the M.I.P.A awards.
The Musikmesse International Press Awards (M.I.P.A.) are often said to be the "Grammys" of the Musical Instrument/Pro Audio industry.
Every year, over 100 music magazines from all over the world cast their vote for the best new products and the winners are announced at the worlds largest musical instrument trade show held in Frankfurt, Germany.
This year, the Roland TM-2 Trigger Module won the Best Product in the Electronic Drums category.
 Roland was also a strong contender in several other categories!
Nominated Keyboards/Electronic: Roland System-1
Nominated Arranger Workstation: Roland BK-9  
Nominated Stage Keyboards: RD-800  
Nominated DJ/Producing Tool: Roland AIRA Series    
To get your hands on the international award winning Roland gear, please visit one of the Roland dealers. You can find your local dealer by using our dealer locator – CLICK HERE
TM-2The Easy Way to Bring Hybrid Versatility to Your Acoustic Drum Set.
BK-9A World of Music at Your Command.
RD-800The Evolution of a Classic.
System-1Sounds with Character and Loads of Controls in a PLUG-OUT Capable Synthesizer.
TB-3The Magic of the TB-303 with New Sounds and Modern, Performance-Ready Features.
TR-8Authentic TR-808 and TR-909 Experience in a Modern, Performance-Ready Instrument.
VT-3Easy Voice Transformation with Vocoder, Lo-Fi Effects, and Synths You Can Sing.