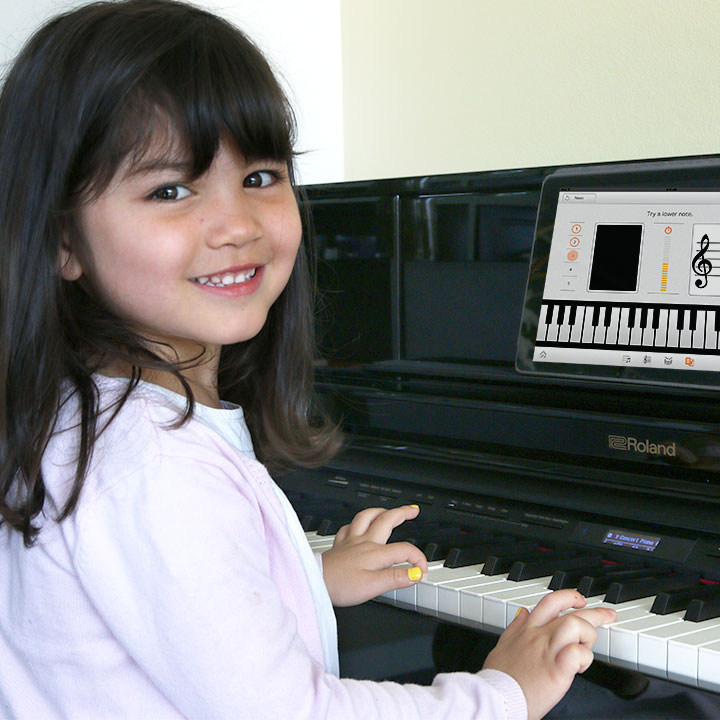 There are tonnes of studies and articles about the benefits of children learning music. Music can play a big part in a child's development – from memory to patience, plus helping with cognitive and social skills. Music is a universal language that can benefit anyone and everyone, regardless of background and age.
So, you've decided to get your child started in learning a musical instrument. Congratulations!
There are many instruments to choose from. Strings, woodwind, brass, percussion….but unless your child has a strong preference to play a particular instrument, I feel that learning a keyboard instrument is a great place to start.
Why?
Unlike the woodwind, string and brass instruments, you simply need to press a key to produce a sound on the piano. Many first-timers on woodwind and brass instruments will struggle to get any sound out of them. Keyboard or piano is an ideal way to learn the fundamentals of music theory because all of the notes are right there in front of you. It's a great instrument to build your aural skills as well, provided that you have a digital piano, or an acoustic piano that is regularly tuned.
Contributed by Hiyori Matsushima for Roland Corporation Australia
First Thing First…Buy A Piano!
During my years of teaching, I've had parents ask me "Can my child start piano lessons without having a piano at home?" Their thought process was that the child's time on the piano at the teacher's house would be sufficient. In other words, the child's only experience on the actual piano would be during their piano lessons. The answer would be, no. Having no practice time at home will severely hinder their progress. They need more time to get to know the instrument.
Beginner vs. Advanced
First, think about the family setting and the piano use at home. Is there anyone else in the family who plays or used to play the piano? Will the piano remain in the house at all times? Does the child like to sing as well? Is anyone else in the house musical?
The reason why I ask this question is to gauge the level of instrument that would be suitable for the entire household. If there is one beginner in the house and no one else plays the piano, I would suggest a piano that is suited for beginner-intermediate players.
When you are a complete beginner, you are unlikely to notice the difference between a beginner's piano and an advanced piano. But as you become more experienced, you will start to notice the differences in the action, sound projection and tone. The better the sound and action, the better you'll feel about playing the instrument.
Why Pay More? They All Look The Same…
One of the most common questions that customers ask is "Why should I pay more for that piano rather than this cheaper piano?" This is a totally valid question. One piano costs $1,500 and the other piano costs $7,000. They both have 88 notes, they both have weighted keys and they both have 3 foot pedals. So why not choose the cheaper one?
It's all about the sound, action and the playing experience. Just like a car, the more you spend, the better experience you will have. Superior quality parts, better sound systems, high performance engine…they are all key components that differentiate one piano from the other.
In addition, a selected range of advanced Roland digital pianos are covered by 10 Years Manufacturer's Warranty. This is the longest warranty period on the market. Find out more here.
Below are some technical features that you might like to look out for when choosing a digital piano.
For those of you who aren't too keen on the tech specs, jump to The Perfect Spot for the Perfect Piano in Your Home.
Recommended Pianos for Beginner-Intermediate Players
F-140R
RP-501R
HP-603


If there is another family member who already plays the piano (regardless of whether you already own an acoustic piano and are looking for the second silent piano), I would suggest a piano that is suited for intermediate-advanced players.
Recommended Pianos for Intermediate-Advanced Players
HP-603
HP-605
LX-7
LX-17

Technical Stuff: PIANO ACTION
Action is about the touch, response, sensitivity and feel. How the piano action responds to your playing is extremely important, as this can significantly affect your performance.
The term Escapement that you see below is the replication for the action that you will feel when playing an acoustic grand. If you press a key on the grand piano slowly, you will feel a little click – this occurs in acoustic grands as the hammer hits the strings. This sensation is replicated on the Roland digital pianos and is referred to as Escapement.
Along with the speakers and the sound engine, one of the factors for price increase in digital pianos is the action. Here are the Roland actions throughout the range:
ADVANCED LEVEL


PHA-50 (FP-90, DP-603, HP-603, HP-605, LX-7, LX-17, RD-2000)
PHA-4 Concert Keyboard (RD-800, HPi-50e)
PHA-4 Premium Keyboard (HP-504)
PHA-4 Standard Keyboard (FP-30, F-140R, RP-401R, RP-501R)
Ivory Feel-S (FP-80)
Ivory Feel-G (FP-50, RD-300NX, F-20)
ENTRY LEVEL

Technical Stuff: POLYPHONY
Polyphony = number of notes a keyboard can play simultaneously. For example, if you play a melody note and a 3 note chord to accompany the melody, you are using 4 polyphony notes. Once your piano uses up the maximum polyphony notes, you will not be able to add any more notes (the extra notes simply won't play). Some keyboards have 64 polyphony which already sounds like a lot because you only have 10 fingers! But keep in mind that one note doesn't always mean one polyphony. Depending on the sound you select (an orchestral sound, for example) one note can require multiple polyphony.
F-140R: Maximum polyphony of 128 voices.
HP-603: Limitless polyphony for piano category tones. Others tones have 384 voices.
LX-7: Limitless polyphony for piano category tones. Others tones have 384 voices.
LX-17: Limitless polyphony for piano category tones. Others tones have 384 voices.

Technical Stuff: SPEAKERS
Better speakers, better sound experience. Simple.

LX-17 has 2 x 25W and 4 x 6W speakers (acoustic projection speaker system for 3D sound).
LX-7 has 2 x 30W and 2 x 7W speakers (acoustic projection speaker system for 3D sound).
HP-605 has 2 x 30W and 2 x 7W speakers (acoustic projection speaker system for 3D sound).
HP-603 has 2 x 30W speakers.
RP-501R has 2 x 12W speakers.
F-140R has 2 x 12W speakers.

The Perfect Spot for the Perfect Piano in Your Home
It is important to place your piano in a highly visible room. People don't say out of sight, out of mind for no reason! If the piano is tucked away in a room that no-one goes into, how would it remind you or your child to play and practice?
Once you've decided on the room that the piano will live, you need to consider how much space you have for the piano.
Recommended for Smaller House/Apartment
If you have a limited space for the piano, I would suggest the slim design pianos so that they take up less space in your home.
F-140R
DP-603
LX-7
LX-17
Stage Pianos
Recommended for Homes with No Space Issues
All of the above, plus:
RP-501R
HP-603
HP-605
HPi-50e

Should I Buy A Stage Piano Or Home Style Piano?
Not all pianos will live at home. Someone in the family might prefer something portable so that they can take it out to busk, gigs or rehearsals. If this is the case, it would be best to look for a Stage Piano.
Buying a more portable piano doesn't mean that you have to compromise on the sound, action or playability.
Keep in mind that some Stage Pianos have no internal speakers, which means that you would need to use external speakers like a keyboard amplifier to hear the sound. Alternatively, you can use your headphones.
If the piano is predominantly for your home, you might want to consider a couple of things before making a decision between Stage Pianos and Home Style Pianos.
Stage Pianos can be just as beautiful to play, except they're great for portability. They are perfect for mobile musicians and can be tucked away if need be, not to mention that they weigh much less than Home Style Pianos. To give you an idea, the FP-80 Stage Piano weighs 23.8kg while the HP-603 weighs almost 50kg.
If there is a chance that the piano may be used for taking piano exams, such as AMEB, Trinity and ABRSM, I would suggest buying a Home Style Piano over a Stage Piano. Some of the examination boards specify that the pedals are fixed to the main body of the piano.
Stage Pianos generally come with a damper pedal that is not fixed to the piano for portability. There are some models such as FP-80 and FP-90 that offer optional dedicated stands and pedalboards but other Stage Pianos such as the RD series do not have the option to have a fixed pedalboard.
The advantage of having a Home Style Pianos like the HP and LX models is that they are much more stable. If you have young children in the house, Home Style Pianos would be more suitable because Stage Pianos are easier to be knocked over. Roland Home Style Pianos also have the 'half lid' function on the lid so that the buttons can be hidden away from young children.
Hopefully, this guide has given you a better idea for purchasing a new piano for your child to learn and play on. Of course, being able to try a piano out before purchase would be ideal. So, now that you've got some background on models and types, try your preferred one out in a store with your child and see what you both like about it. Music is a tremendously rewarding gift and getting your child into music at an early age can lead them on a path of enjoyment for the rest of their life. Plus, they'll always be thankful that you did!
DID YOU FIND THIS USEFUL?
Subscribe below and receive everything you need to know about starting to play the piano.
Related Articles
THE MAGIC TOUCH – A BRIEF HISTORY OF RD SERIES
STYLES AND MODES FOR PIANO
I USED TO PLAY THE PIANO
WHAT DO I NEED TO KNOW WHEN I'M IN A PIANO SHOP?
DIGITAL SHEET MUSIC GUIDE
Related Products